Wednesday 10th of March 2021
Don't Hesitate! Vaccinate!!!
Who are eligible?
• Starting March 1st, 2021 vaccination has been allowed for Indians above the age of 60 years as of January 1st, 2022 and Indians between 45 and 59 years with comorbid conditions.
• Individuals, with comorbidities need a certification from a Registered Medical Practitioner to be eligible for vaccination.
• Registrations are allowed on the CoWin 2.0 Portal, Aarogya Setu app etc.
• The Comorbidities that makes a person eligible for vaccinations are listed below:
1. Heart Failure with hospital admission in past one year.
2. Post Cardiac Transplant/Left Ventricular Assist Device (LVAD).
3. Significant Left ventricular systolic dysfunction (LVEF <40%).
4. Moderate or Severe Valvular Heart Disease.
5. Congenital heart disease with severe PAH or Idiopathic PAH.
6. Coronary Artery Disease with past CABG/PTCA/MI and Hypertension/Diabetes on treatment.
7. Angina and Hypertension/Diabetes on treatment.
8. CT/MRI documented stroke and Hypertension/Diabetes on treatment.
9. Pulmonary Artery Hypertension and Hypertension/Diabetes on treatment.
10. Diabetes (> 10 years or with complications) and Hypertension on treatment.
11. Kidney/ Liver/ Hematopoietic stem cell transplant: Recipient/on wait-list.
12. End Stage Kidney Disease on haemodialysis/ CAPD.
13. Current prolonged use of oral corticosteroids/ immunosuppressant medications.
14. Decompensated cirrhosis.
15. Severe respiratory disease with hospitalizations in last two years/FEV1 <50%.
16. Lymphoma/ Leukaemia/ Myeloma.
17. Diagnosis of any solid cancer on or after 1st July 2020 or currently on any cancer therapy.
18. Sickle Cell Disease/ Bone marrow failure/ Aplastic Anemia / Thalassemia Major.
19. Primary Immunodeficiency Diseases/ HIV infection.
20. Persons with disabilities due to Intellectual disabilities/ Muscular Dystrophy/ Acid attack with involvement of respiratory system/ Persons with disabilities having high support needs/ Multiple disabilities including deaf-blindness.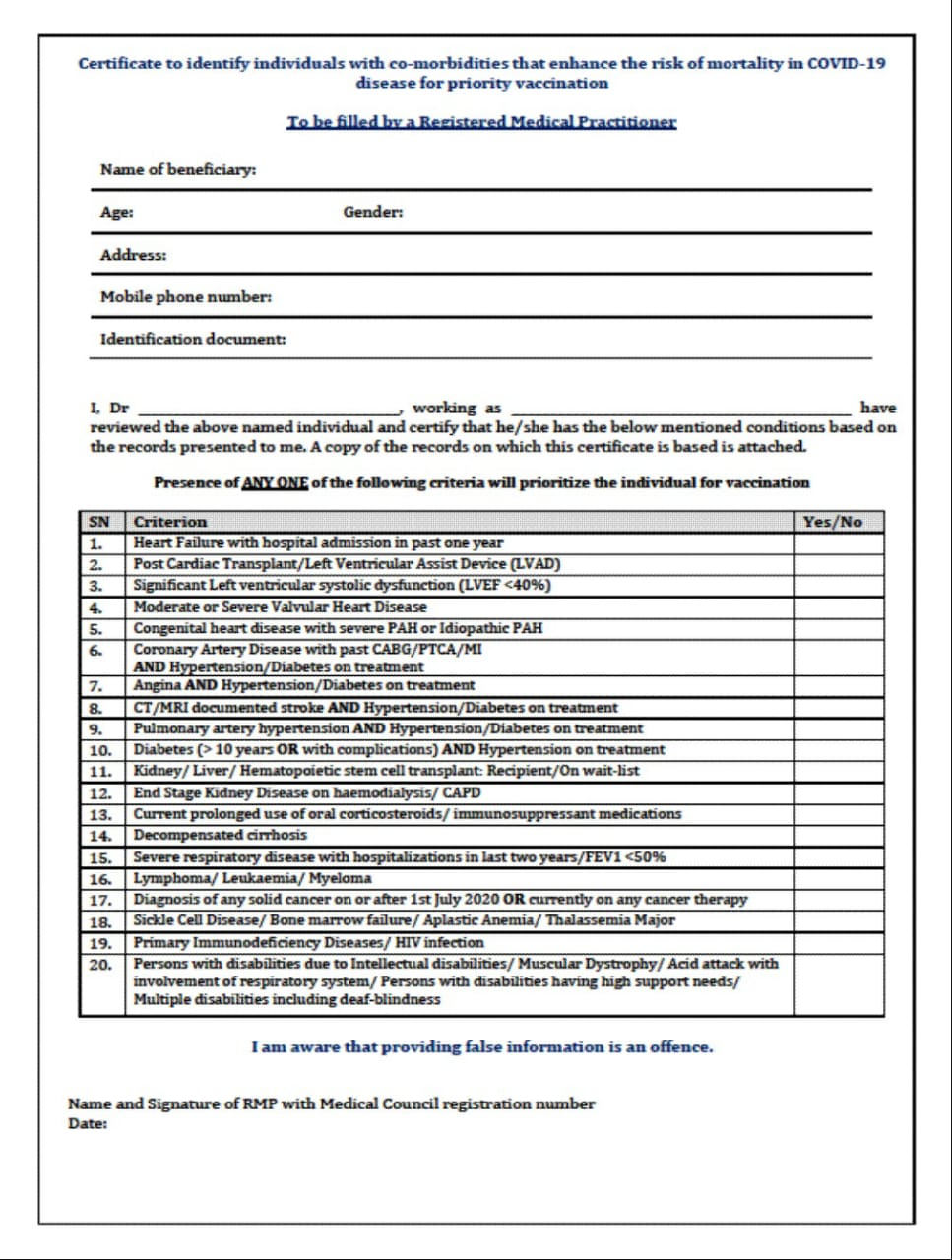 If u have any co morbidity then take the below certificate certified by a registered medical practitioner, for taking the Covid-19 vaccine
What about persons who have confirmed or suspected COVID-19 Infection?
• They should defer vaccination for 14 days after symptoms resolution.
• It is advisable to receive the complete schedule of COVID-19 vaccine, irrespective of past history of infection with COVID-19, for protecting one-self against this disease and in developing a strong immune response against the disease. It will also limit the spread of this disease to the close contacts including family members, friends, relatives and co-workers.
What are the Side effects?
• Some common side effects in some individuals could be mild fever, pain etc. at the site of injection etc. States have been asked to make arrangements to deal with any Covid-19 vaccine-related side-effects as one of the measures towards safe vaccine delivery among masses.
What precautions to be taken post vaccination?
• Do not forget your responsibilities. Even after taking the Covid-19 vaccine, continue to take necessary precautions. Wash your hands regularly and wear a face mask. Maintain a minimum of 6 feet distance.